Leather
Kent Saddles are made using only the very best leather. Our leather is sourced mostly from the USA as well as some Australian suppliers. We primarily use USA tannery Wickett and Craig's leather as we have found it to be of a consistently high standard.
Right: Wickett and Craig's Matt Bressler (sales manager) talking to the colour production supervisor about the colour of a batch of Kent Saddlery's leather.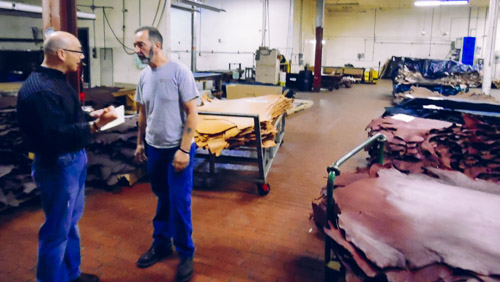 Saddle Tree
The saddle tree is the foundational structure of a saddle and we make the tree for every Kent Saddle.
The trees are carbon composite; reinforced with carbon fibre for extra strength and durability, light weight and moisture resistant.
The trees are handmade, according to agreed specifications, following discussions between the customer and saddler.
Daniel Kent and Tom Garland are Kent Saddlery's tree makers and are meticulous in following a technically complex process, which results in a top quality product. We are confident that each Kent Saddle is uinquely custom made; both inside and out.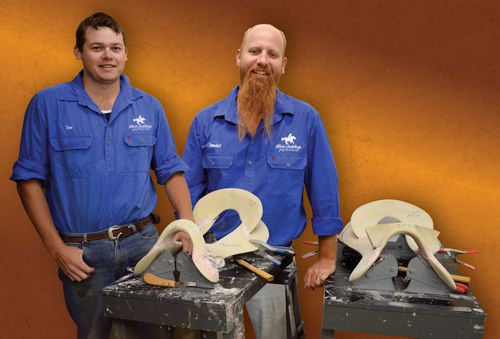 Tom Garland and Daniel Kent with two saddle trees.
Cable Rigging
A major, successful innovation has been cable rigging, developed by Mark Howes in America and introduced during the late 1990's, in conjunction with our saddle tree maker at the time, Bob Wattus.
We continue to incorporate cable rigging in most of our saddles and have received very positive feedback from satisfied customers.