RADIOS are a fact of life in the majority of stock camps on outback cattle stations, and at Morney Plains the workers use them to communicate with each other.
At Kent Saddlery, we've designed a radio pouch which allows the wearer to speak directly into the radio without having to take their eyes off what lies ahead, and their hands remain in control of the handle bars of a motorbike, or the reins of a horse. Most musters now involve helicopters, and communication between chopper pilots and those on the ground is essential. Ultimately, a radio pouch is a valuable piece of safety equipment and at the very least saves the cost of replacing lost and damaged two-way radios.
At Kent Saddlery we are committed to improving the quality and function of all our products and appreciate customer feedback.
Kent Saddlery radio pouches have been modified several times, the latest change followed Lyle and Helen Kents visit to Sophie Downs Station, Halls Creek, WA during their 2014 business trip.
Neville Dahl, owner of Sophie Downs, suggested that to assist in the removal of the radio from the pouch for charging, a thin strip of leather could be attached to the pouch so that when one end is pulled, the radio pops out.
We have taken that great idea and incorporated it into the latest model. It works a treat.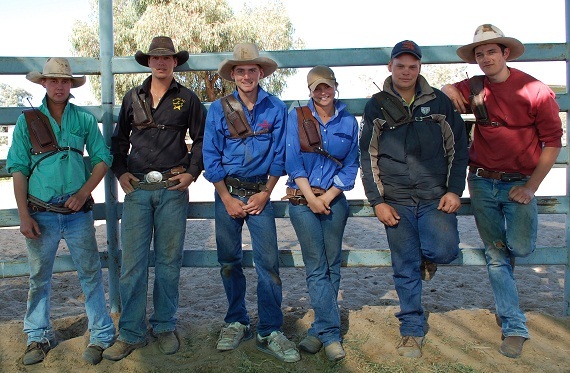 PHOTO – Morney Plains Stock Camp 2012 L-R: Luke Wolfenden, Luke Barton, Timmy Norris, Ruby Schmidt, Dan Durie, Jack Turnbull.
Working with first year ringers, Boondi finds that teaching them to use the radios is a challenge. "I have to tell them, "If I talk to you, ANSWER me!" You don't know if they've got the message or not!" There's a quiet laugh. "Anyway, its part of the job."
At Durham Downs, horses are used in conjunction with choppers to muster the cattle out of the channels, and communication between the pilots and those on horseback is essential. Michael explains, everyone has a radio; it makes the job a lot easier.
"Radio Pouches – You don't even know you're wearing them."
For Michael Oehlmann, better known as Boondi, a two way radio is essential. "You've gotta have it really." Boondi, and the crew in the Durham Downs stock camp carry their radios in Kent Saddlery radio pouches.
Michael is pleased that "the pouches are good and light; you don't even know you're wearing them."
Photo of Boondi, Durham Downs Station, 2011